The magnificent Stamford Park Homestead was built in 1882 by the entrepreneurial Row family as a Gentleman's Residence. After many years of neglect the homestead and six acres of grounds have been sympathetically restored, allowing it to once again become the 'jewel in Knox City'.
Stamford Parks current custodians, have waved their 'whimsical' magic of both design and true hospitality over the beautiful estate and it is now a stunning property serving the public for what it was originally intended – a place to gather, meet and entertain.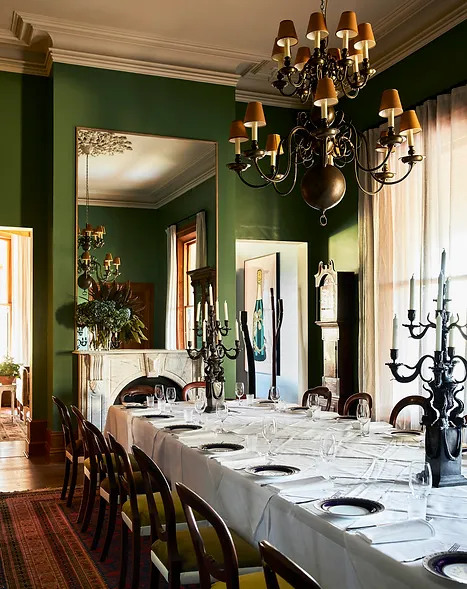 Our Verandah Café is our casual, QR code self-service area. We do not take bookings for the Verandah Café, just wander in and make yourself at home.
Relaxed, all day casual dining… Our Verandah café overlooks the grand lawn. Perfect for coffee, a toasted sandwich, one of our garden salads, Devonshire Tea or even a jug of Pimms! The Verandah Cafe is puppy friendly and perfect spot to watch the kids play on the lawn!

Experience the Homestead at its finest… Our award winning dining rooms and our beautiful Garden Courtyard are the perfect settings to enjoy our garden inspired seasonal 2 or 3 course menus. Our famous High Tea is served in the Homestead and in our Garden Courtyard
Indulge in Stamford Park's signature tiered High Tea – with sweet and savoury delights and Mr Jones grandmother Aggie's famous lemonade scones!
$59,9 per person Bookings required
Book your private party at Stamford Park, perfect for birthdays, celebratory occasions, baby showers, religious celebrations, or any excuse for a party really! We've got you covered.
Your magical evening at Stamford Park. Enjoy the open air and manicured grounds.
From your ceremony to your reception, our venue offers a couple of options in either our Homestead Restaurant or Garden Courtyard for a seated or cocktail wedding tailored to your special day.
Due to the renovation, we will be re-opening from the mid of November '23.
Please follow us on Instagram for future updates.
We look forward to welcoming you back to the Homestead soon.
Simply fill in the form below and we will
endeavour to get back to you as soon as possible!